15 Mart'T GeForce Now with servers in Turkey Game+ He appeared before the actors with his partnership. However, before, the membership of people who used the service from abroad servers had dropped. Nvidia did not suffer users in this situation and made special pricing. In this context, distribution of codes to GeForce Now Founders members started.
Founders members start using the service at a special price
GeForce NOW by Turkcell GAME +, 74.90 TL per month We came across with a membership fee. However, after Founders members of to 'discount'decision came out.
GeForce Now Founders members with a discount of 1 for 49.90 TL throughout the year will use the service. Previously, the members were paid monthly to foreign servers. 5,49 euro was reaching by paying. Turkey was also charged for almost the same.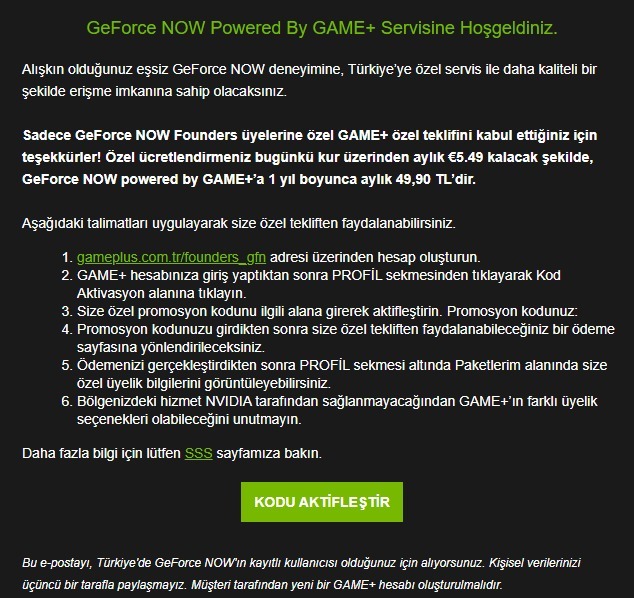 How will GeForce Now Founders members do code activation?
You can take advantage of the special offer by following the instructions below.
– gameplus.com.tr/founders_gfn Create an account through the address.
– After logging into your GAME + account, click on the PROFILE tab and click on the Code Activation field.
– Activate your special promotional code by entering the relevant field. Your promotional code:
– After entering your promotional code, you will be directed to a payment page where you can benefit from the special offer.
– After making your payment, you can view your private membership information in the My Packages field under the PROFILE tab.
– Note that GAME + may have different subscription options, as the service in your region will not be provided by NVIDIA.