Dogecoin, which appeared in 2013 for humorous purposes, has seen a good increase thanks to Elon Musk's social media posts. Dogecoin, which was less than a cent in value in early January, today broke the 10 cents threshold for the first time, hitting 11 cents.
Classified as MemeCoin, which started as a joke, Dogecoin currently has a market value of over $ 14 billion. Elon Musk, who made a great impact on the crypto money market, shared a post about Dogecoin in February. Elon Musk, who shared the post with the description of "Training video about Dogecoine", said on Clubhouse, "I will not share anything about crypto money, I am destabilizing the markets." had included his statement.
In early January, 1 Dogecoin was less than 1 cent. Although Elon Musk saw a good increase after his post, the reason behind the 11-cent threshold is unknown. Elon Musk, who has fluctuated and strongly influenced the crypto money market, recently said, "I'm going to the moon, very soon!" shared a post that wrote. Although the name Dogecoin is not directly mentioned, we know that Dogecoin is "To the Moon!" that is, "Towards the moon!" is remembered with the slogan.
Dogecoin is 11 cents, approximately 1 Turkish Lira!
Dogecoin, which is obvious whether it is related to Elon Musk's tweet last Sunday, reached the 11 cents scale. Will Dogecoin, which is about 82 cents according to today's rate, continue to rise?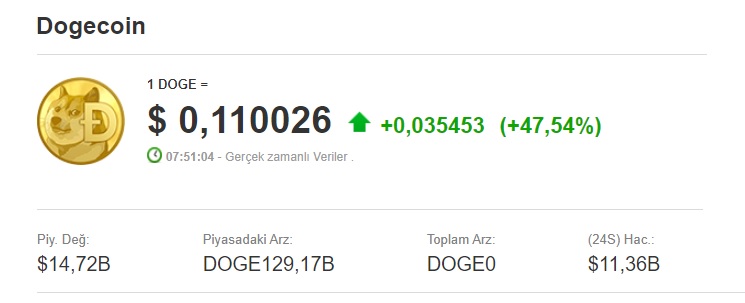 Although there are such big leaps in the crypto money market, how do you interpret the rise of Dogecoin, which emerged for humorous purposes? If you were to invest in the crypto money market, would you buy Dogecoin? You can write your thoughts in the comments.