Spherical CO2 emissionsrose again as constraints eased by the pandemic. According to new data; Globally, carbon dioxide emissions that warmed the planet in December were produced more than before the epidemic.
International Energy AgencyAccording to, CO2 emissions from energy use worldwide; In December 2020 compared to global levels in the same month of the previous year 2 percent rose.
Breathing in the pandemic, the world is back
New data, COVID-19He says we have left behind a year of initial global emissions decline as a result of restrictions placed to stop the spread of China. Your works pandemide a brief pause revealed that it was not enough to prevent a more severe climate crisis.
In a statement made by the general manager of the International Energy Agency (IEA), Fatih Birol; "The recovery in global carbon emissions towards the end of last year is a sure warning that not enough has been done to accelerate clean energy transitions around the world." said.
International Energy Agency It underlines the necessity to reduce emissions while ensuring economic growth and energy security. By the middle of the century by countries and companies to net zero emission In an environment where commitments to reach increase; The variations in emissions show what will happen if these targets are not achieved with fast and concrete action.
How are the carbon dioxide emissions on the basis of the country?
ChinaChina's emissions for the whole of 2020 increased by 0.8 percent from 2019 levels, driven by the year-round economic recovery. 75 million tons happened.
Chinawas the first major economy to emerge from the pandemic and remove constraints, and its economic activity and emissions Engagement It caused a recovery from the month of. Also, China was the only major economy to grow in 2020.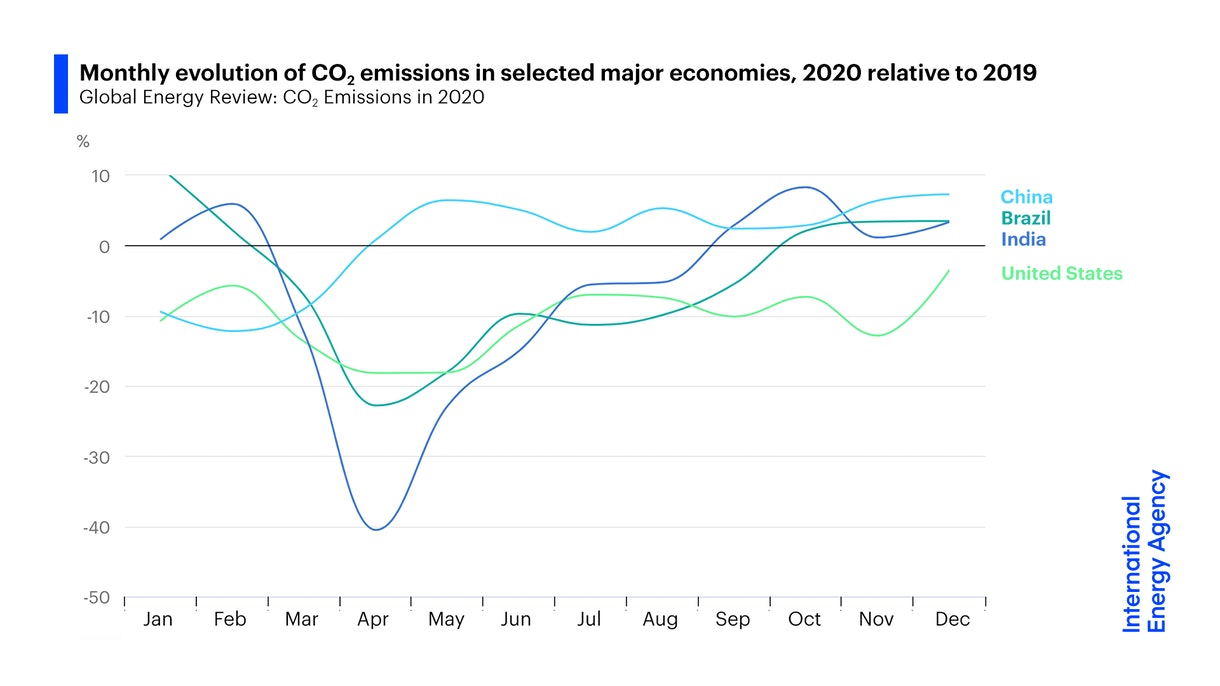 In indiaEmissions rose above 2019 levels from September as economic activity improved and restrictions eased. In brazilWhile the recovery in road transport after the April low led to a recovery in oil demand; The increase in gas demand in the later months of 2020 pushed emissions above 2019 levels during the last quarter.
United States of Americaemissions in 2020 fell 10 percent. However, on a monthly basis, after reaching spring lows, it began to revert to its former self.
December US emissions were approaching the level seen in the same month of 2019. This, in addition to increasing economic activity; higher natural gas It was the result of increased coal prices and cooler air.