Four young people who made videos in Rize by likening themselves to astronauts, on social media became the center of attention. Wearing hair socks, rubber shoes and beekeeper clothes and wearing motorcycle helmets, 4 young people create content by likening themselves to astronauts.
Space young people who dream, as they wait for the next phone from Turkey Space Agency did not answer telephone calls from NASA video, we were greeted with interest by users in social media.
Their aim is to draw attention to hunger and wars in the world.
Rizeli Mehmet Akif Sipahioğlu, Hilal Çayırcı, Seher Veziroğlu and Hacer AltoprakThey disguise themselves as astronauts by wearing bristle socks and rubber shoes, a beekeeper outfit, and a motorcycle helmet wrapped in white cloth.
The astronaut aiming to go into space and sitting with his grandmother in the images, Turkey Space AgencyIt draws attention to the fact that it does not answer phone calls from NASA while waiting for the phone. His grandmother was the astronaut who could not go into space.Don't worry, you will come out next yearHe tries to comfort him by saying ".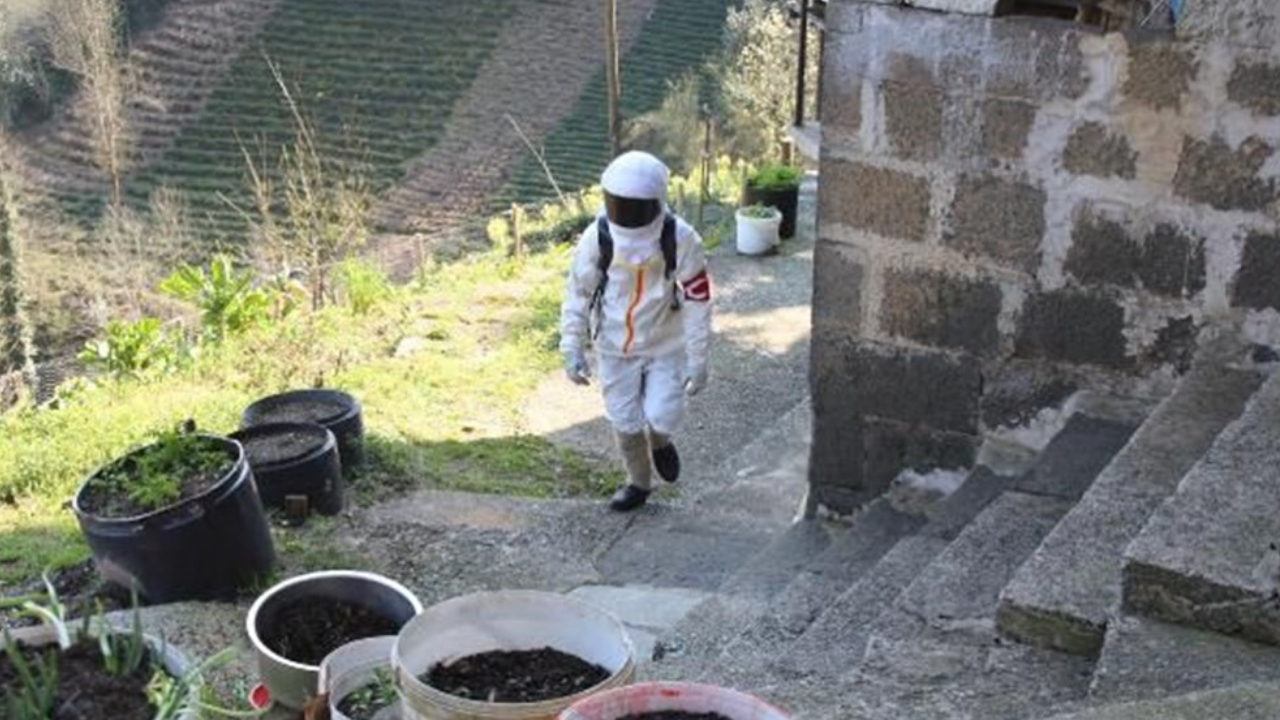 In addition, Baykar Defense Technical Manager Selçuk Bayraktar shared the videos of the young space enthusiasts on social media on his social media account.
With friends art and culture Stating that they prepared the magazine, Mehmet Akif said, "We used an astronaut on the cover of the first issue of our magazine. An astronaut looking at the world with a hawk on his arm. He complains about the world and wants to rise to the skies because of hunger, war and poverty in the world. We try to explain what they lived here until they reach the sky and the world of emotions with videos. He also needs sane people while achieving his goal of going into space. Here our grandmother steps in and guides her. Our grandmother drew a lot of attention as well as the astronaut. Although our grandmother had a hard time at first, now improvisation does everything. He also loved our astronaut, "he said.
Indicating that the astronaut is a mysterious character, Mehmet Akif said, "We put the astronaut in hair stockings because it belongs to the region. If we used a real astronaut suit, it wouldn't have received that much attention. We took advantage of the possibilities we had, and brought out an astronaut with a motor helmet, beekeeper outfit, hair socks and black rubber, "he said.
Mehmet Akif Sipahioğlu continued his words about the astronaut who aimed to draw attention to hunger and war in the world;
"Our astronaut is very troubled, his aim is to draw attention to hunger and war in the world. The solution also know that the future of Turkey. That's why he opened the phone call from NASA, the Space Agency is waiting for a phone call from Turkey. The astronaut is a mysterious character. That's why he doesn't speak at all, he tries to get things done without speaking. If you receive a phone call from Turkey Space Agency will talk then. While we were preparing these videos, we did not think they would attract this much attention. Selçuk Bayraktar shared us on his page. We are getting very good feedback now "
The grandmother Mukaddes Sipahioğlu, who helped the astronaut, says the following about the subject; "My grandchildren want it. I am also helping them. The man in a white suit comes and doesn't talk to me at all. I don't know what he's doing around here. Maybe he came to measure the teapots. He is wearing our hair socks and black tires, walking around on his feet. I want to go to space, I do not allow "
What do you think about the Rize astronaut? You can share your ideas with us in the comments section.