Yemeksepeti made a statement on March 27 and announced that some data was stolen. While no figures are shared in the statement, KVKK the attack affected 21.5 million people announced. While the discussions on social media continued, Nevzat Aydın, the first name that comes to mind when it comes to Yemek Sepeti, broke his silence after 17 days.
Yemeksepeti CEO Nevzat Aydın made a statement
"I find it difficult to find words to express my feelings. I am very sadUsing expressions Yemeksepeti CEO Nevzat Aydın's explanation is as follows;
"As I have expressed at every opportunity, Yemeksepeti Family, consisting of you, not me and my colleagues, brought Yemeksepeti to its current position. We learned the necessary lessons from yesterday; we will build the future of Yemeksepeti in a much more faithful and stronger way."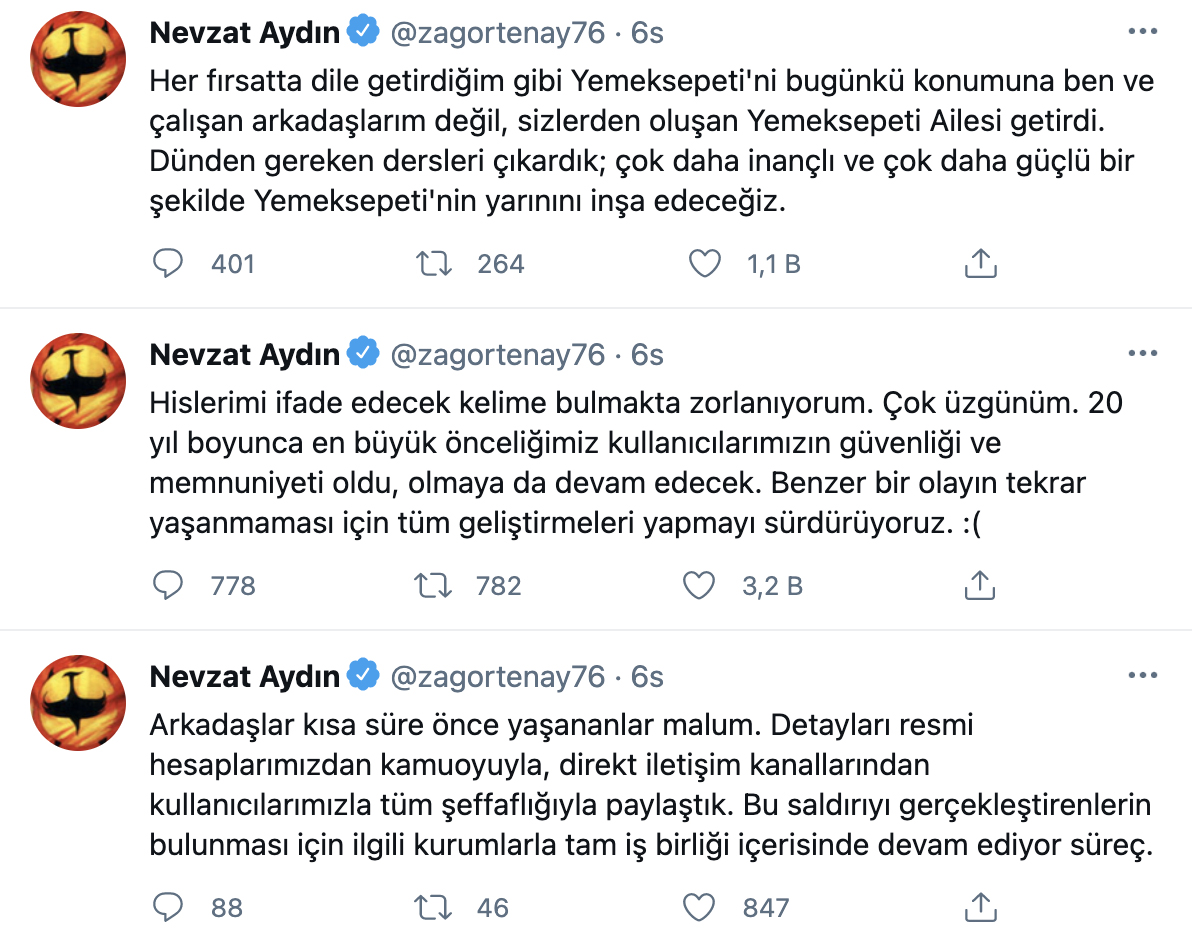 "I find it difficult to find words to express my feelings. I am very sad. Our top priority for 20 years has been the safety and satisfaction of our users, and it will continue to do so. We continue to make all the improvements to prevent a similar event from happening again. 🙁 "
"Friends, you know what happened recently. We shared the details with the public from our official accounts and with our users through direct communication channels with all transparency. The process continues in full cooperation with the relevant institutions to find the perpetrators of this attack. "
Yemeksepeti users' information is in danger
In the statement made on March 27, "As we determined in the morning hours of 25.03.2021, the Yemeksepeti user database was attacked by unidentified cyber hackers or hackers and there was a security breach. Some of the account information of Yemeksepeti users was captured by pirates ".
The seized data are as follows;
– Ad sooyad
– Date of birth
– Telephone numbers registered in Yemeksepeti
– E-mail addresses registered in Yemeksepeti
– Home and work address information registered in Yemeksepeti
– Data of user passwords encrypted with SHA-256 algorithm